Monumental Jihad: Strategy to keep Bharat in ruins
Decades after independence, is it any wonder that heritage monuments of Hindu origin are still in ruins?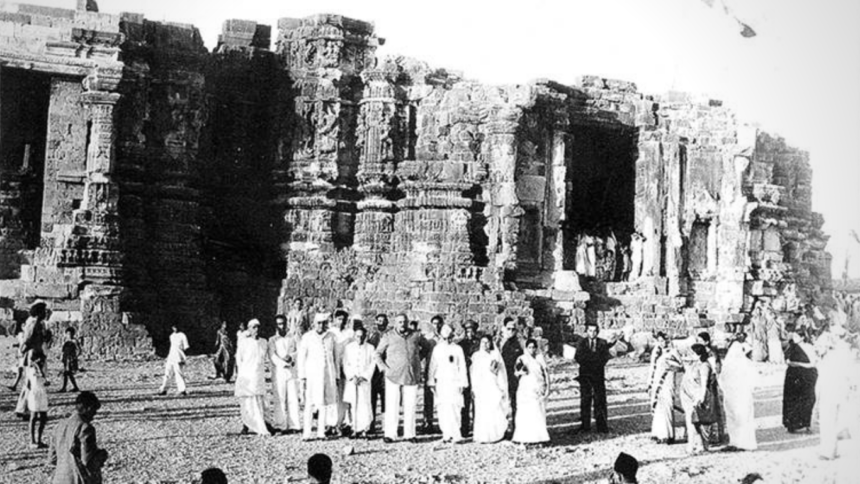 Almost after a decade of active social media, awakened Hindus have now exposed many subterfuges of some post-partition rulers on ancient Bhartiya civilization legacies. The famous Munshi letter[1] narrating the painful saga of obstructions faced in rebuilding the sacred Somnath Temple, and the heavy price paid by the first President of India Dr Rajendra Prasad for being part of the installation of the deity (prana-pratishtha), are well known. However, little attention has been paid to the damning aftermath that befell other ancient geo-spatial landmarks of our civilization, after the bitter scenes in the Somnath restoration saga. Sardar Patel, K.M.Munshi and V.N.Gadgil's significant accomplishment, in ensuring respectful homage to Lord Krishna's auspicious place, was indeed unpalatable for some rulers with ulterior motives. How this achievement led to negative repercussions for other ancient heritage legacies gets revealed in words, actions and covert designs of some key players of post-1947 sectarian minded authorities, of the Congress-Muslim-Communist trio.
Monumental Jihad: to keep Bharath in 'ruins'
The 1947 freedom at midnight saw a rather sad sunrise of intense political intrigues to further subjugate and bury important ancient Bhartiya historical places. The consistent obstructions in Somnath's restoration are astonishing as supposedly 'learned, liberated and secular' people were at the helm. It brings out why Bhartiya sites lie in 'ruins' under the guise of 'protection' of the Archaeological Survey of India (ASI). The ASI has religiously thwarted efforts of showcasing 'on ground' ancient historical facts and digitally revive prominent places, citing 'rules'. The pathetic state of ASI protected Hastinapura, Kampilya, Indraprastha, Shishupalgath, Rakhigarhi and innumerable such places, compared to huge amounts being spent on the upkeep of Muslim structures, gives an idea of the policy of enforced subjugation of ancient legacies. What is so secretly enshrined in the ASI rules that they still continuously throttle the revival of the glorious past of the world's oldest civilization yet pump millions in renovating and promoting mediaeval structures? What is the root of this prejudiced trend? In 1922 K.M. Munshi, eminent Minister in the J.L. Nehru cabinet had penned the agonizing state of the demolished Somnath Temple, highlighting its unyielding firmness as it lay "Desecrated, burnt and battered", … a monument to our humiliation, and ingratitude."[2] The agony echoes in every ancient historical site constrained to remain in 'ruins'.
Soon after 'independence' Home Minister Sardar Patel visited the ruins of the Somanath Temple. That same evening at a public meeting, he announced '…That the Government of India has decided to rebuild the temple and install the shrine".[3] Reaching Delhi, he apprised Gandhi and took his blessings for this long-desired project. Alas, the three stalwarts Sardar, Munshi and Gadgil were unaware of the motivated political manoeuvres waiting to sabotage their efforts. The then Education Minister, Maulana Azad, in charge of Culture under the Education Ministry, opposed, stating Somnath Temple remains be kept under Archaeological Survey of India (ASI) as 'ruins'. Suggesting continued 'subjugation' and disregard of Hindu ancient sacred places was quite clear, a grim reminder of Maulana's 1947 speech at Jama Masjid[4], that government can take no major decision without the consent of the Muslims of India. 'Progressive' Nehru seconded Maulana. The matter reached Mr M. K. Gandhi, who tactfully opined that the temple should be rebuilt, but not with government money. Patel and Munshi's argument that the government under the same ASI was funding renovations of Muslim shrines and mosques across India, did not hold good for the 'secular'-'sarva dharmi' Nehru-Gandhi duo. After Gandhi's death in 1948 and Patel in 1950, Nehru openly became critical of the project, and of Munshi. At the Cabinet meeting, the secular Prime Minister termed the initiatives as 'Hindu revivalism'.[5] Dr Munshi bore it but aptly responded to Nehru's sting with a scathing letter dated 24 April 1951. This is the famous historic testimony revealing the games politicians played with the history and culture of a civilization that was once again trying to breathe in its 'free' land. But for this letter, few would have known the realities of historical decisions that changed the course of our nation's historic legacies. Munshi's candid reply states –"… that the Government gave subsidies and grants to thousands of mosques and tombs and there could be nothing objectionable if it spent a little money in restoring a Hindu temple. I understood secularism to mean the equality of all religions…" [6]
This 'Somnath' success of Sardar-Munshi-Gadgil led to deeper unfortunate implications for Bharat. It saw the beginning of the end of any further restoration or rebuilding of ancient places of India. The Maulana's idea, for keeping Somnath in 'ruins', subtly permeated ASI and set in motion a trend we now see spanning across all built heritage of ancient India, (with the rare exception of 'unavoidable' Rani Bauli of Gujarat). Keeping them under wraps within ASI was critical so that no one can even privately renovate them. The Maulana set in motion a design to play differently with historical places of mediaeval and ancient heritage. In effect, government aid for Muslim places but hibernation in a ruinous state for landmarks of ancient 'Itihasa' became the norm, exposing the pseudo-secularism roots in India. The implications still reverberate, visible at the pathetic condition of historical landmarks under ASI. Monumental manipulation also started through ASI, with government promoted entities like INTACH (1984), imbedded with communist bias, and the Agha Khan Trust for Culture (AKTC 1988), NGO of an Imam that aims at 'revitalization of communities in the Muslim world', and 'honouring of Islamic art and architecture'. Old pictures of the Purana Qila show how meticulously and mischievously, since the 1970s, its dilapidated ruins have been transformed into a 'purely Muslim' monument. Hiding Indraprastha of the Pandavas, it is also fallaciously promoted as 'Dinpanah' of Humayun, subverting its ancient identity as Indraprastha Pandava Qila that invader Humayun took over, as documented by Akbar's historian Abul Fazal.[7] It is mindboggling that as late as 2018, an iconic old building within Purana Indraprastha Qila was destroyed and a new red stone Muslim building created! Victim of half-truths, the Purana Indraprastha Qila has no museum to show the hundreds of rulers who ruled from this most ancient Hindu fort.
Bharat awaits India to correct the historical blunders and nourish roots of factual heritage legacies of our historical journey, so intrinsic to our identity.
References:
[1] Dr K.M Munshi wrote a long letter to Nehru on 24 April, 1951, when at a Cabinet meet Nehru remarked "I do not like your trying to restore Somnath.  It is Hindu revivalism." (Dr. Munshi's historic letter to Pandit Nehru: VP Menon calls it 'a masterpiece' October 11, 2013, 4:42 PM IST LK Advani in LK Advani's Blog | India | TOI)
[2]  Internet articles (through VIF),
K.M. Munshi, 1922, in East and West. As quoted in 'Somanath: Fulfilment of a Collegian's Dream', Bhawan's Journal, Jan.1, 1967.
Dr. Munshi's historic letter to Pandit Nehru: VP Menon calls it 'a masterpiece' October 11, 2013, 4:42 PM IST LK    Advani in LK Advani's Blog | India | TOI  Internet articles (through VIF), published in 1967, Pilgrimage to Freedom,
[3] LK Advani in LK Advani's Blog October 11, 2013, 4:42 PM IST   | India | TOI
[4]  http://thedelhiwalla.blogspot.com/2015/11/delhi-speeches-abul-kalam-azad-jama.html,
[5]  Internet articles (through VIF), published in 1967, Pilgrimage to Freedom,
[5] LK Advani in LK Advani's Blog October 11, 2013, 4:42 PM IST   | India | TOI
[6]  Dr. Munshi's historic letter to Pandit Nehru, dated 24 April, 1951. ….
Also reproduced in Makkhan Lal, 2008, Secular Politics Communal Agenda, pp. 150-154.
[7] Ain-E- Akbari Vol I Abul Fazal