Buddha, Caste and Environment
The Buddha realised that the future of any civilisation depended on its relationship with Nature.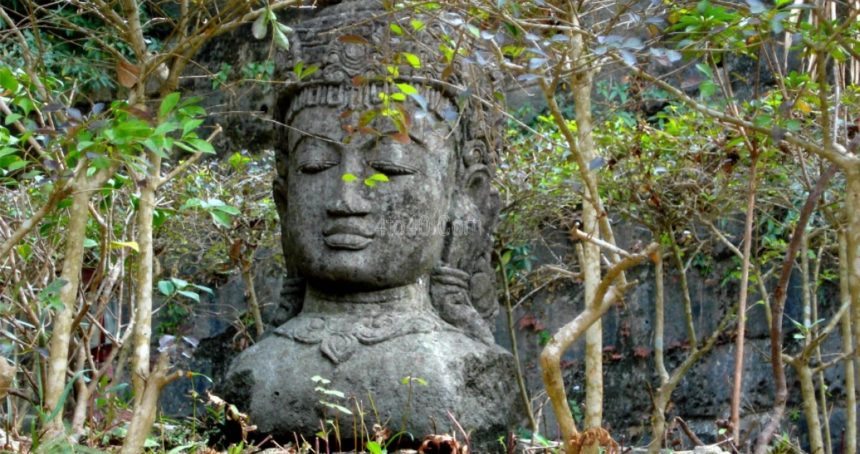 Caste groups in a given ecology lead to greater efficiency of resource partitioning. Their collective nature and fluid form allow them to change occupation during ecological stress and resource depletion. They promote collective bargaining amongst other stakeholder castes and lead to bottom-up solutions to ecological problems. The work of ecologists Madhav Gadgil and K.C. Malhotra demonstrated the same in 1983.
This system has come under duress with the ever-expanding tentacles of the State taking up functions it cannot perform but threatening the livelihood of marginal castes.
The Veda that talks of Purusha Sukta says of Nature in Rig-Veda (10.72.4-5)


How can a daughter give birth to his father? This is actually the Purusha-Prakriti loop of Samkhya philosophy.
Dyaus Pitar in his three fire manifestations; Sun (Surya), Lightning (Indra) and Cognition (Chitta) gave birth to the primal waters, the manifestation of unstoppable Shakti. The river Sarasvati flowed down gravity, joined the sea, but evaporated into the cosmos to return to her original course, each time making the earth fertile and Nature bountiful. Nature thus engulfed Adi Purusha, the ultimate cognitive 'Isvar' of this Universe.
Nature was the canvas in which Isvar communicated his being there to Hindus.
The Mathematical formulation for  this shloka is
, that in the realm Nonlinear dynamics gives rise to the Chaos in Nature.
The Hindu Civilisation revolved around this Purusha, savouring the fruits of Prakriti and then giving their mortal body back to the elements in Nature once their life was over. Immortality was achieved when one understood that their individual self like Nature is perpetually changing and indestructible. The one true Brahman in the midst of Maya of Nature.
Just like Nature was fragmented of trees, animals, lakes and forests that were interconnected by Deep Ecology, the One True Lord of the Hindus manifested in infinite forms and names all interrelated. For a Vedic enthusiast and purist like Shakyamuni Buddha, protection of Nature was paramount, so that people can see their reflection in Nature and consider themselves an extended part of it.
Civilisation in his eye was not a static collection of rubbles but very dynamic. People's activity should move in sync with Nature. They must savour the seasonal fruits, dig trenches for the monsoons, grow their seasonal crops and fulfil their material needs to understand that it will not feed their spiritual longings.
The perfect society was the wheel, that had to move with Nature to stay in the same place. Tamasic ones perished because they did not move. Rajasic ones because they moved fast and outpaced the sync with Nature. Only the Sattvic ones survived. They moved along with Nature. Their Dharma was intertwined with the Dharma of Nature.
However, he saw degradation in society. People saw Nature as bounty and cried when Nature took instead of giving them back. Death, Senility, Poverty was blamed on Nature and not seen as a bargain the living had made by being an extension of Nature. Shakyamuni thought this was because the caste system was broken.
The Brahmins just conducted Vedic rituals but did not share the intellectual nectar of the Vedas. Buddha thought of it as a moral hazard, the Brahmins were not delivering the novel good for which they were charging novelty. The positive externalities of proselytising the Vedas as word of Isvar was missing in action. This is what created this peculiar situation.
The very Hindu Buddha took it upon himself to change the Brahmanical discourse, decided to be born in the Shakya clan of Kshatriyas and reinforced the caste system. In his vision of a perfect society, the intellectuals were the inner-rim that closely gripped the axle, Satya on which Society stands. This was the Brahmins who had knowledge of Isvar. This was later taken up by Buddhist Brahmins in Orthodox schools and by the Sangh in Mahayana.
The Kshatriyas as the outer rim protected parts of the society from collapsing on itself and from buckling under external pressure. The commoners, Sudras and Vaisyas were the wheel frame who actually interacted with Nature and shared their fruits with these varnas. Like any wheel, the parts interlocked and reinforced each other.
The Kshatriyas had the highest stake in the protection of the environment because the buck stopped with them. Nature's cycles moved the markets by making food and goods possible and Kshatriyas were depended on taxes from them for their survival.
The Kingdom feared the market and Nature like the plague for it went bankrupt when it outspent on the army and police than what it could raise in taxes. Security of the people and Intellectualism were also considered service in varna-dharma and Indian economy.
Was the varna system rigid then? Not if you understand ecology like Shakyamuni Buddha did.
Ant as an individual is stupid. A colony of ants is not. They communicate amongst themselves discreetly and modify their behaviour accordingly. This is called swarm intelligence. The cognition of an individual was limited. When they acted in consort within the loose kinship structure, their collective intelligence became manifold. This was without any central control. Everybody in a Jati was an extended family member, everybody knew each other and there was remarkable trust that translated into Social Capital. Thus, it created a robust system that could absorb any ecological disaster and by extension market crash.
Suppose a jati manufactures a product X whose demand goes down because of ecological fragility while there is a good prospect in another emerging product Y whose value might go up in the next market cycle. So, some people in the jati might start manufacturing Y by crowdsourcing their Capital from the rest of the jati and within a reasonable time frame, the entire jati would have shifted from manufacturing X to Y. Since jatis lack any rigid central authority, this process was more complex, less controlled but was consensual and consequently better co-ordinated.
With other such groups they traded with, they formed an interlocking thread-like pattern. The Society was organised and synonymous with Tantra because it represented cotton weave. Because of swarm intelligence, castes could swiftly and nimbly migrate to other occupations when there was stress on resources.
Thus, if the wheel was damaged, these caste groups occupied the varna slab that felt vacant. This was done gradually with a ready incentive, raising their income level. Sudra castes became Vaisyas when the trade links were broken. They became Kshatriyas when there was no one to provide security. They became Brahmins when the intellectuals failed or got killed by religious zealots.
Conversely, castes of high-income varna occupied low-income varna on being displaced from their varna. Kshatriya clans took to trade. They often became land labourers. These loose caste groups often changed their Varna very locally like capillary action and discreetly, sometimes over generations. They but followed one law, that the income per capita of the group was maximised with time, similar to Darwin's idea of natural fitness.
This model bio-mimicry from Nature moved along with perturbations from Nature and provided strong resilience when tampered with. The success of this can be attested from the fact that in the first census, it became a nightmare for the know it all colonisers to count and deal with the thousands and thousands of castes.
Manu, Shakyamuni's ancestor also advocated this evolution in ecological niche approach, his system was called Rajyasamagraham,
The organisation of the state is recommended in terms of ascending cycles of villages, districts and provinces. This is an arrangement which would roughly correspond to our system of administration at district and village levels. It is interesting to point out that the basic governing principle of this organization is that the larger group must deal with a problem only when the smaller group fails. It is better to solve problems, as far as possible, in the place where they arise.
Manu also knew that caste mobility and fluidity would be hampered when you have a huge centralized State trying to loot all-natural resources for itself (Similar to the Company Bahadur-Nehruvian State we have presently). He thus set strict limits on ecological plunder through taxation
 The system of taxation should be such as would increase the national wealth. Manu is very clear in his mind that a kingdom in which people starve perishes sooner or later. The king is entitled to 1/50 of the gold, 1/ 6 of crop, l/12th of the commerce. He must see to it that people are not over-taxed for these very people are the ultimate source of his wealth and property. Though Manu recommends harsh measures against anti-social elements, he seems to be convinced that unless people are given sufficient autonomy, the economy would not flourish.
Manu too saw Nature's seasonal tides as the cosmic ocean which could make and unmake civilisations. Today, the ecological clock is ticking, caste is seen as a regressive social institution but we all like to pretend that the government has the answer. This is because our government social scientists cannot look beyond the dichotomy of God and No God, the binary of Positivism and Nihilism.
Indian logic is far from such mundane backward European superstition. They are used in Quantum Mechanics but never in Social Science where it matters much more. The possibility that government welfare bureaucracy causes negligence of ecology and leads to stagnation of caste mobility is not even discussed. The blame is transferred to people who lived centuries before, are dead and therefore unable to defend themselves.
Caste relations started degrading precisely with the advent of the colonial state. Its plunder of Nature often led to extended famines which was blamed on the landed gentry rather than the State. Its willful manipulation of the credit system for its own mercantile interest led to high interest and money-lenders became an evil caste. Faulty interest rates and price signals hampered management of Nature and Ecology. When it could not be ignored anymore, this was moved from the category of secular to the category of religion. Poor Brahmins on the village outskirts had to suffer.
The question shouldn't be, when are we eradicating caste or protecting the environment. The question should be, when can we eradicate government excess and decentralise authority so that marginal castes can rise the ladder of the development and protect the natural resources whose judicial use is the very steps of that ladder.
In Africa, where no such thinkers took birth, the indigenous cultures have been absorbed and modified to varying extent by the religion of the colonised
and ecology degraded to an extent that is unimaginable in Asia.
In India, where civilisation revolves around Isvar (Anatta in later Buddhist thought), Nature is the canvass where we can access them. The Nehruvian State isn't choking the arteries, it occupies the pumping heart and expects Nature and the people concerned to follow its diktats. Nature has a flow of its own and if we listen to Shakyamuni, we will understand that it is the Indian society that must adapt to Nature.